Crocodile pattern artificial leather
is a type of synthetic leather that is designed to mimic the appearance of natural crocodile leather. It is made from a variety of synthetic materials, such as polyurethane, PVC, or microfiber, and is often used in the production of shoes, bags, and other fashion accessories.
There is some debate over the environmental impact of synthetic leathers like crocodile pattern artificial leather. While they may be more durable and easier to care for than natural leather, the production of synthetic materials can have negative environmental consequences, such as the release of harmful chemicals and the consumption of non-renewable resources.
Crocodile pattern environmentally friendly artificial leather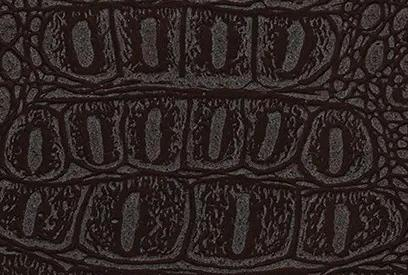 1. 100% artificial leather on the face feels soft and fits the skin.
2. The texture is the softest, resistant to folding, and has a certain degree of moisture absorption.
3. Close to the leather effect, simulation.
4. Environmental protection, 100% recycled polyester fabric at the bottom.
5. The color fastness is higher than or equal to level 4.
6. Long-term stable export of global products.